An effective treatment to control lice on sheep.
Extinosad™ Destroyer Dipping and Jetting Liquid is registered for the control of spinosad-susceptible lice (Bovicola ovis) on sheep with short wool and long wool, including strains resistant to synthetic pyrethroids.
Key features of Extinosad™ Destroyer include:
Contains spinosad, a powerful active ingredient that provides rapid knockdown of lice1
Unique mode of action2, making it ideal for rotation programs
No known field resistance, kills SP resistant strains of lice1
Zero (0) days wool and meat withholding period and a Zero (0) day Export Slaughter Interval for long wool jetting offering maximum marketing and management flexibility
Water based, odourless formulation which poses low risk to livestock, shearers, dip operators, farm workers and the environment when used in accordance with label instructions
Certified as an 'allowable input' on 'organic' properties that are accredited to the National domestic standard of Australian Certified Organic
Important Safety Information
Prior to use consult the product label for complete instructions.
May irritate the eyes. Avoid contact with eyes. Wash hands after use. When preparing the solution and using the prepared solution wear cotton overalls buttoned to the neck and wrist and a washable hat and elbow length PVC gloves. After each days use wash gloves and contaminated clothing.
Sheep Rehandling Interval: After treatment wait untill sheep are dry before rehandling.
Withholding Periods
MILK: DO NOT USE on sheep that are producing or may in the future produce milk or milk products for human consumption.
WOOL: Zero (0) days
MEAT: Zero (0) days

Export Slaughter Interval
Long wool jetting: Zero (0) days.

Short wool dipping application: Not established.
Directions for Use
DO NOT dip sheep more than six weeks after shearing.
DO NOT USE on sheep that are producing or may in the future produce milk or milk products for human consumption.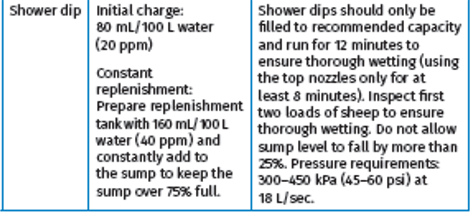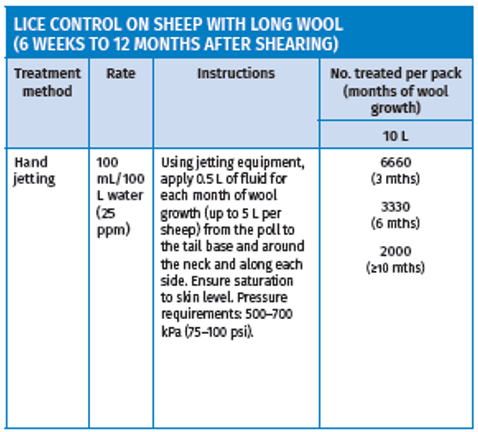 Critical comments
When used for long wool jetting, sheep should be re-treated with an effective off-shears or short wool product after shearing.
Reduced effectiveness is likely if used on sheep with lumpy wool.
Recommendations for lice control
It is recommended that a thorough muster be conducted so that no untreated sheep remain.
Boundary fences should be checked to ensure animals are contained and stray sheep are excluded.
Treated sheep must be kept separate from lice infested sheep or sheep of unknown lice status.
For effective control, every sheep on the property shoud be treated at the same time.
Avoid split shearing.
Avoid treating ewes within six weeks of the commencement of lambing.
Sheep that require a long wool treatment should be treated with an off-shears or short wool product at the next shearing.
References
1. Levot, G. (2008) Speed of action and in vitro efficacy of spinosad against sheep body lice, Bovicola ovis (Schrank) (Phthiraptera: Trichodectidae), resistant to pyrethroid, organophosphate or insect growth regulator insecticides. Aust. J. of Ent. 47,251-255.
2. Cisneros, J. et al. (2002). Toxic effects of spinosad on predatory insects. Biol. Control 23:156-163.